The Fetish Map of the UK

Often referred to as a rather prudish country, behind closed doors the British people really know how to get down and dirty when it comes to sex. Sexual desire is fascinating and diverse, with us Britons finding gratification in weird and wonderful places. That's why we decided to take a look at the most popular fetishes in the country to create a Fetish Map of the UK.

What actually is a fetish?

A fetish is finding sexual arousal and gratification in something that isn't typically considered to be associated with sex. That thing might be an object, a body part or even an act. Fetishes can bring together people and can often play an important role in long-term relationships and marriages. They also allow people to explore their fantasies, whether at events and parties, with partners and escorts, or even on their own.

Fetishes: an extension of fantasy

There have been suggestions over the years that fetishes can be an indicator of mental illness. But according to Dr. Richard Krueger, associate professor of psychiatry at Columbia University Medical Center, that's simply not true. In fact, he says that although the literature on the topic is limited, the studies that do exist suggest that people who have a fetish are healthy or healthier than those who don't. He also suggests that suppressing them can actually result in psychological damage.

Jessica O'Reilly, Ph.D., a sexuality counselor, told Healthline that "sexual fantasy is highly varied across the spectrum, so fetishes might simply be one element of our diversity in terms of sexual interest and arousal".

So not only is having a fetish pretty normal, but acting on that fetish can actually have a positive impact on your health.

The most popular fetishes in the UK

So here we go—onto the study. We took 20 of the most common fetishes and looked at monthly search volumes for each in the UK. This gave us a list of not only the top fetishes in the country, but also the most common in each major town and city. And trust us when we tell you: whatever you're into, you're not alone.

The Top 5

Across the whole of the UK, here are the most searched-for fetishes:

BDSM with 184344 searches per month*
Foot Fetish with 39242 searches per month*
Crossdressing with 33993 searches per month*
Swinging with 33001 searches per month*
Uniforms with 9051 searches per month*
*Averaged over a 12 month period

Alien Fetish- Area 51 Raid
A recent Facebook group was created to storm Area 51 next month to find out what is going on behind the most guarded secret US air base. According to PornHub they saw a huge increase in people searching for "Alien Sex" because of this. We decided to take a further look into where Alien porn and fetish ranks in our findings. Interestingly over 2,000 searches per month in the UK were for Alien based porn and other fetishes, although it's not within out top 5 ranking fetishes it certainly shows an interest in all things paranormal in the bedroom.
The Fetish Map of the UK

We then took the top searched-for fetish in each of the UK's top 20 towns and cities and turned it into this handy map: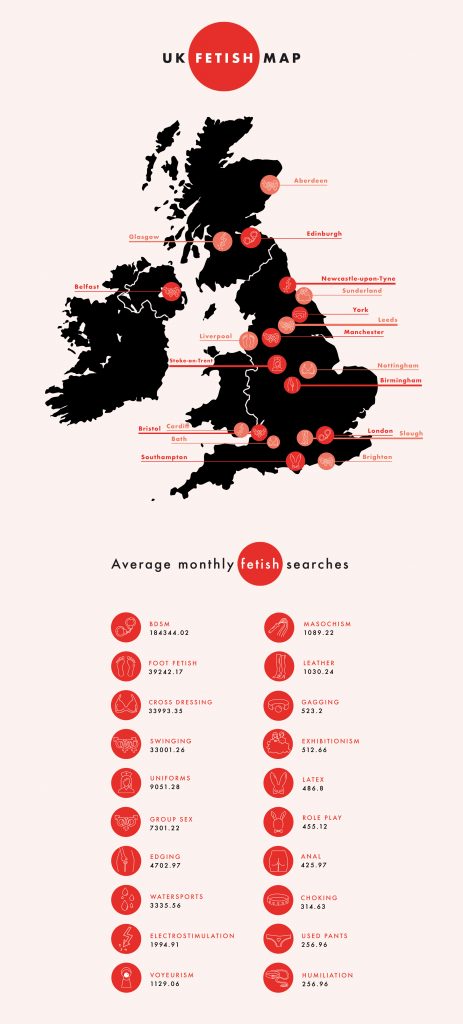 The top fetish in each city and town across the UK

And if you'd like to dig a little deeper, here is a list of the top fetish by major towns or cities in the UK:

| | |
| --- | --- |
| City | Top Fetish |
| Aberdeen | Swinging |
| Basildon | Foot Fetish |
| Basingstoke | BDSM |
| Bath | Cross Dressing |
| Belfast | Swinging |
| Birkenhead | Foot Fetish |
| Birmingham | Edging |
| Blackburn | Foot Fetish |
| Blackpool | BDSM |
| Bolton | Edging |
| Bournemouth | Foot Fetish |
| Bradford | BDSM |
| Brighton | Swinging |
| Bristol | Group Sex |
| Cambridge | Cross Dressing |
| Cardiff | Electrostimulation |
| Chelmsford | Cross Dressing |
| Cheltenham | BDSM |
| Colchester | Foot Fetish |
| Coventry | Foot Fetish |
| Crawley | Foot Fetish |
| Derby | Swinging |
| Doncaster | Group Sex |
| Dundee | Foot Fetish |
| Eastbourne | Foot Fetish |
| Edinburgh | BDSM |
| Exeter | BDSM |
| Gateshead | BDSM |
| Glasgow | Electrostimulation |
| Gloucester | Foot Fetish |
| Hemel Hempstead | Foot Fetish |
| High Wycombe | BDSM |
| Huddersfield | BDSM |
| Ipswich | Foot Fetish |
| Kingston upon Hull | Foot Fetish |
| Leeds | Swinging |
| Leicester | Cross Dressing |
| Lincoln | Cross Dressing |
| Liverpool | Foot Fetish |
| London | BDSM |
| Luton | Foot Fetish |
| Maidstone | Foot Fetish |
| Manchester | Swinging |
| Middlesbrough | Cross Dressing |
| Milton Keynes | Electrostimulation |
| Newcastle upon Tyne | Electrostimulation |
| Newport | Group Sex |
| Northampton | Group Sex |
| Norwich | Foot Fetish |
| Nottingham | Cross Dressing |
| Oldham | BDSM |
| Oxford | BDSM |
| Peterborough | BDSM |
| Plymouth | Group Sex |
| Poole | Group Sex |
| Portsmouth | BDSM |
| Reading | BDSM |
| Rochdale | BDSM |
| Rotherham | Edging |
| Sale | Watersports |
| Salford | Swinging |
| Sheffield | Foot Fetish |
| Slough | Leather Fetish |
| Solihull | Foot Fetish |
| Southampton | Latex Fetish |
| Southend-on-Sea | Swinging |
| St. Helens | Humiliation |
| Stockport | Masochism |
| Stoke-on-Trent | Unifroms |
| Sunderland | Exhibitionism |
| Sutton Coldfield | BDSM |
| Swansea | Group Sex |
| Swindon | Group Sex |
| Telford | Voyeurism |
| Wakefield | Swinging |
| Warrington | Group Sex |
| Watford | BDSM |
| Wigan | BDSM |
| Woking | Edging |
| Wolverhampton | Cross Dressing |
| Worcester | Edging |
| Worthing | Watersports |
| York | Gagging |